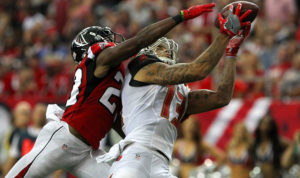 Bucs WR Mike Evans shouldn't see this defense any different from any of the other defenses he has faced so far this year.
Evans is climbing a mountain to better himself. He wants to get better every year and this year he's off to a great start.
Looking at his numbers, as they continue to rise every week, Evans will go up against the Broncos defense's #1 CB, Aqib Talib.
He sees it as a challenge and a way to make a bigger, better name for himself.
Evans wants to improve his stats for 2016, to go beyond those of his rookie year, in which he caught 12 touchdowns. He has a quarterback that is building and growing with him each game.
He is already on pace to break Buccaneers receiving records with 301 yds and 3 TDs, in his first three games of the season.
Evans is grabbing the ball with his hands, while the ball never seems to touch his body, and while in the process of making contact with defenders. Evans has been placed into the Calvin Johnson category, by former Buc and current rival, Aqib Talib. Those are very large shoes to fill indeed, but the fact that one the NFL's top corners feels that way towards Mike Evans just proves how talented the third receiver is and how his opponents seem him. Whether or not all opponents feel this way, there is no doubt that he is well respected.
Hopefully, Denver has studied Evans, because he is coming for that football and not letting the ball come to him.
It's still early in the season, but Evans seems to be in rhythm with Winston and starting to live up to his potential, as not only the Bucs #1 but as a #1 overall wide receiver in the league.