2020 Saw the Tampa Bay Buccaneers create one of the most potent offenses of the year. One that carried them to the team's second Super Bowl championship in franchise history. However, lost in the victory, is the fact that O.J. Howard did not play last season. His return will push the Buccaneers to even further heights.
The First Four
Prior to the Achilles injury, Howard, much like his teammates, was getting in rhythm with Tom Brady. With no preseason the players needed to use the first few weeks to get to know each other. Within short order, Howard had 146 yards and two touchdowns in the first quarter of the season. Multiplying it out that projects to be 584 yards and eight touchdowns if he played the full 16 game season.
The Gronk Effect
In the first quarter of the season, Cameron Brate rarely saw the field. Limited in action as the number three tight end he was only targeted twice. This resulted in one catch for a touchdown, after O. J. Howard went down.
After the loss of Howard, Brate hauled in 27 receptions for 279 yards and a single touchdown. With Howard's absence, one would think Brate would post better numbers. Rather, the targets and momentum shifted in Rob Gronkowski's and the wide receivers' favor.
Gronk ended up finishing season as the Bucs' leading tight end. He finished the season with 45 receptions for 623 yards and seven touchdowns.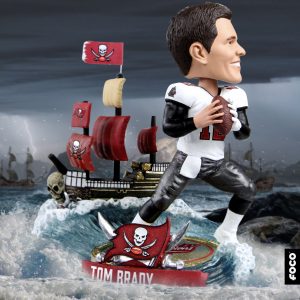 Hurt or Help
Howard's return can only be a good thing. Like the previous seasons show, he is a mismatch against linebackers, corners, and safeties. His size and speed make him a formidable opponent. If he can remain healthy, he will command coverage that requires defense coordinators to take notice. At this point, there is no one to risk a double team on in any formation. This will leave Brady with nothing but multiple options week in and week out. The only person who will be negatively affected is Brate.
Loading...
Final Thought
You can never have too many weapons. Howard's return could push this offense to levels we have not seen yet. The Buccaneers will be able to push more two-tight end sets than we hoped for in 2020. Subsequently, the wide receiver corps will find themselves open more and Gronkowski can be…well, Gronk!
"He's really close now," said Arians. "He looks fantastic working out every day."
For more follow us on Twitter @Bucs_Report and me at @BucSalty