Recently, ESPN put together a list that they thought determined the best Undrafted Free Agent in each team's history, Jenna Laine selected LB Shelton Quarles and we could not agree more.
Back in 1997, Hardy Nickerson was Captain of the notoriously stingy Buccaneer defense. Nickerson broke the mold when it comes to cover 2 MLBs. He had a combination of strength and speed that had never really been seen before at MLB, but he was aging. It was then the Bucs signed free agent, LB Shelton Quarles
Quarles was a LB that wasn't really on anybody's radar. First, Quarles signed with the Miami Dolphins as an undrafted free agent in 1994, but was cut during training camp. For the next 2 years he played in the Canadian Football League before finally signing with the Bucs.
Quarles spent the next 2 years at SLB next to Nickerson soaking up Nickerson's football knowledge like a sponge. Then in 2000 it happened. Nickerson left as a free agent and it was Quarles's defense now, for better or worse.

He took over right where Nickerson left off. At 6'1″, 225 pounds, like Nickerson, Quarles was fast and a sure tackler. On defense, he was always around the ball and had a knack for sniffing out plays.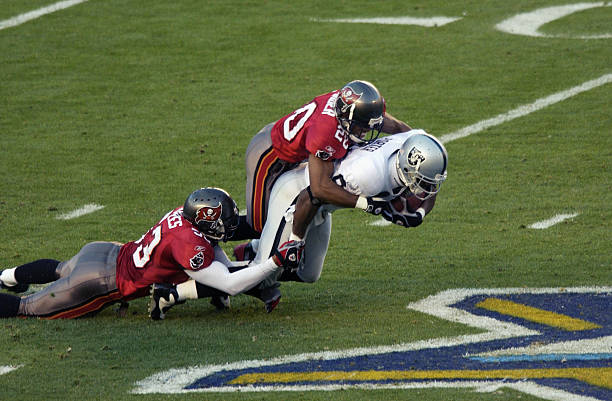 Then came 2002 when Quarles became a Super Bowl Champion as Captain of the Buccaneers defense, while also being selected to the Pro Bowl. From then, until 2007, at age 36, he retired and will go down as not only the best free agent signing in Bucs history but as one of the greatest Buccaneers of all time.