The Bucs offense proved itself to be one of the best and most effective units in the league last year. While it was a team effort and every player contributes in their own specific way, there are a few players who mean more to the team's success than others.
That last sentence is no slight or dig. It's life – some people are simply more important. It applies to just about all facets.
Regardless, who are the most indispensable Bucs on offense? There are plenty of candidates, but only five will make the list.
This post will go in ascending order, increasing in value as we continue.
---
I must admit, I had some big questions about the Gronkowski signing when it happened. And for the first few weeks, those questions grew larger as it became clear Gronk was still finding his legs.
But he was lights out once he was used to playing football again. OJ Howard's season-ending injury in Week 4 certainly opened the door for more opportunity and Gronk seized said opportunity.
Gronk led the Bucs tight ends in receptions, receiving yards, and touchdowns. He was top-10 among all NFL tight ends in receiving yards and touchdowns. His 623 yards and seven touchdowns were the eighth- and third-most in a single season by a tight end in Bucs' history.
But what actually makes Gronk so important to the Bucs offense -outside of being one of Tom Brady's favorite targets- is his blocking prowess, which was on display in full effect against the Washington Football Team.
First up is Montez Sweat, Washington's sack leader in 2020. Gronk does a very good job of making the initial contact and is strong and fast enough to disrupt Sweat's rush lane and keeps him from reaching Brady.
Gronk is lined up on the right side of the offensive line next to Wirfs: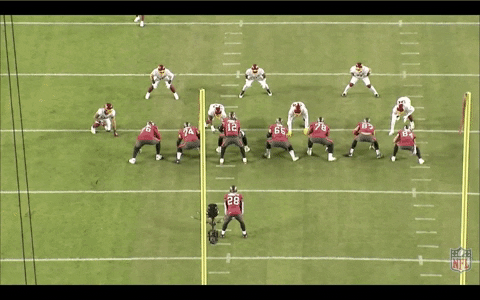 Chase Young, the NFL's Defensive Rookie of the Year, is up next. Gronk makes him a non-factor on this play by mirroring Young and reacting well to his sudden change of direction.
The fact that Gronk can move like this at 32-years-old against a rookie who is 22-years-old shows how athletic the man is and how much he has left in the tank. This time, he's on the left side of the offensive line next to Donovan Smith: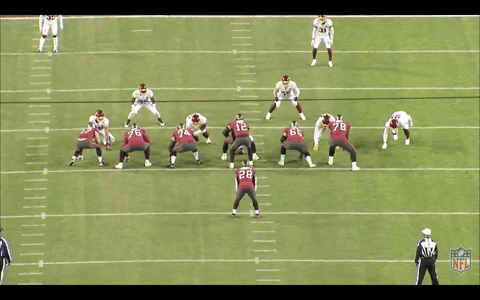 It's not just pass protection when it comes to Gronk's blocking ability, either. His ability to affect the Bucs running game was a big reason why the Bucs offense had one of the better running games in the NFL. Per Sports Info Solutions, Bucs running backs finished 2020 with a mark of 0.01 EPA/att, which was the sixth-best mark in the league.
On this play, he gets under Ryan Kerrigan's pads and is able to seal him off, preventing him from making any type of play toward the ball.
He's back on the right side of the offensive line for this play:
And of course, Gronk brings the party. The guy is an all-around asset and it's easy to see why he's bound for the Hall of Fame.
Sure, the Bucs still have Cameron Brate and Howard as options in case Gronk were to go down. But it's clear that they can't do what Gronk does at this level. This makes him indispensable all on his own.
It's wild to think that a player can be considered indispensable after one year, but that's where we are with Wirfs.
The former Iowa Hawkeye has already made a name for himself among the league's best tackles. And not just right tackles, but tackles in general. Pro Football Focus recently ranked Wirfs as the sixth-best tackle after finishing 2020 as the second-highest graded right tackle in the NFL.
Wirfs' numbers were among the league's best. Per PFF, he was just one of 13 tackles to allow one or zero sacks out of a true pass set and graded as the 11th-best tackle out of a true pass set.
What makes this all the more impressive is the competition he faced throughout the season. It started with a murderers' row of Cameron Jordan, Brian Burns, Joey Bosa, and Khalil Mack andf continued as the season wore on.
This is a difficult block for Wirfs to execute vs. Bosa on the open side of the formation but he does a nice job getting a good fit, driving his feet, and steering Bosa inside. This really set the tone for the day too. pic.twitter.com/jLAKxfiOIF

— Brandon Thorn (@BrandonThornNFL) October 5, 2020
But what really stood out about Wirfs' rookie year was how much his presence helped elevate the offensive line as a whole. He took over for Demar Dotson, who was a solid player during his time in Tampa Bay, but his recent play was in decline. There were plenty of instances where this showed up during games. Wirfs is not only a much-needed injection of youth at the position, but he is on the edge of elite status and should only get better in 2021.
And even though Josh Wells has been OK in times of need, it's a big drop-off from Wirfs to Wells – or even Brad Seaton or Robert Hainsey. An offensive line without Wirfs is not one Bucs fans want to know.
Godwin is in the same territory as Gronk. Yes, there are suitable replacements if he were to go down with an injury, but no one on this offense can do what Godwin does as well as he does it.
The fifth-year receiver plays the "Big Slot" for the Bucs, which is identical to the role Larry Fitzgerald played during his revival with Bruce Arians in Arizona. Not only is Godwin one of the main targets in the passing game, but he is crucial to supporting the run game.
Godwin's run-blocking ability is borderline elite and he's one of the best in the game at his position when it comes to opening up running lanes.
Just watch what he does to Deion Jones (who is a Pro Bowl linebacker) on this play. Godwin's block keys the 17-yard run by Leonard Fournette. He's lined up on the left side of your screen: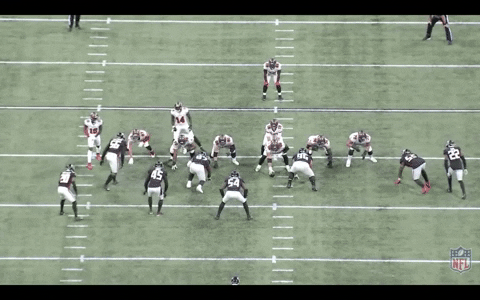 This run isn't as successful as the previous one, but it's another good example of how good Godwin is in the run game. This time, he gets the angle on Isaiah Oliver, squares up and turns him back toward the sideline and away from the runner. Godwin is again on the left side of the screen. This is a textbook block: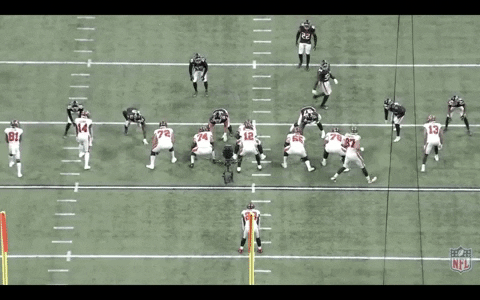 And of course, Godwin is integral to the passing in game. Brady averaged just 0.03 EPA/dropback in the four games Godwin missed compared to 0.14 EPA/dropback in the 12 games he played. You can also argue he has the best hands on the team, evidenced by his career-high 77.4% catch rate, which was the team's highest catch rate among wide receivers.
There's a reason why Godwin was franchised back in March. He's easily one of the most important players on the Bucs offense.
Marpet has been the Bucs best offensive lineman for a while now. The front five took a big hit when he missed Weeks 9-11 in 2020. The numbers reflected this in a big way.
Per PFF, the Bucs offense allowed the 15th-most sacks (7.0), the most quarterback hits (24), the fourth-fewest hurries (30), 14th-fewest pressures (62), and finished with the sixth-best efficiency rating through Weeks 1-8.
But those numbers changed drastically during Marpet's absence. Per PFF, Tampa Bay only allowed 2.0 sacks, but everything else nosedived. The amount of quarterback hits went up from 3.4 per game to 4.7 per game, which led the NFL. The Bucs gave up an NFL-worst 11 hurries per game and 16.3 pressures per game through Weeks 9-11 compared to just 3.75 per game and 7.75 per game through the first eight weeks. As a whole, the unit finished 29th in efficiency.
Everything corrected course once Marpet returned to the lineup. The Bucs gave up the fourth-fewest sacks, an NFL-best 15 hurries, and the second-fewest pressures through Weeks 12-17. The unit finished as the second-best unit in terms of efficiency during this span.
It wasn't just the passing game that struggled, either. The running game was largely ineffective, as well. Two of the Bucs' five worst games grade-wise occurred during the Week 9 matchup against the Saints and the Week 11 matchup against the Rams. The Bucs running backs also ran for just 50 combined yards on 17 carries in those two games.
These numbers would've looked way worse if it weren't for the team's 216-yard performance that included Ronald Jones II's 98-yard touchdown run against Carolina in Week 10. Fortunately, the Bucs offense caught a breather there.
Of course, the running game improved once Marpet returned. Per SIS, Tampa Bay finished with the sixth-best EPA/att and third-best positive play percentage while averaging 4.6 yards per carry through Weeks 12-17.
No matter how you slice it, this offense is going to take a big step back without Marpet. And that's definitely not a good thing when you have a soon-to-be 44-year-old quarterback leading the huddle. No matter who said quarterback is.
I mean, this is probably the easiest explanation I'll ever have to type out.
There is absolutely no doubt that Brady is the most important player on the Bucs offense – or the entire team. What he was able to do in his first year with the Bucs is unheard of. To come in and not only have the best year for a quarterback in franchise history, but to also win a Super Bowl is simply something regular players don't do.
He's the GOAT for a reason and he showed why in 2020. Don't expect him to do anything less but show off more in 2021.
---
Who are your indispensable Bucs on offense? Let us know in the comment section below!