This writer is not one for "I told you so" but the Ryan Jensen situation had red flags and warnings. The front office had a chance to move on and regain a foothold on the cap. But they didn't.
Initial injury
On July 28, 2022, Jensen experienced a severe knee injury during Buccaneers training camp and had to be carted off the field. Fans held their breath, but the news was devastating. The team, front office, and fans knew he was lost for a significant amount of time. Later, he was placed on injured reserve on September 1, 2022.
The Return
On January 16th 2023, Jensen appeared on the field again to start his first game since his injury. For many, myself included this felt premature. Rushed even, and unfortunately the results were subpar. He went on to allow one sack, a hit, and four hurries in that game against Dallas. Far below his average play and uncharacteristic.
The front office and Jensen rushed to have him compete. Though I won't say this hurried decision lost them the game against Dallas it certainly helped. Weather rushed or not his bad play was a huge sign.
The 2023 Season
Entering camp the perception behind Jensen's play was not as high as one would expect. He didn't participate in team drills to start and looked on from the side line for the much of camp. Something was off.
If he was able to play in last seasons playoff loss then why can't he participate in camp? The answer is simple. The front office and Jensen moved too quickly to have him compete in the playoffs and now.
Missed Opportunity
There was a little blessing in Jensen playing in the playoffs last season. It showed he could take the field. This in itself would peak interest in teams needing a center. Couple that with the announcement from Tom Brady about retiring the Buccaneers had a perfect opportunity to move on to a younger, inexpensive starting quality center in Robert Hainsey.
Last season Hainsey allowed no sacks, and only 20 pressures on 800 passing snaps. Additionally, only six other centers posted better grade from PFF last year. Needless to say the Buccaneers had their replacement, didn't take advantage, and now are on the hook to pay Jensen while still cash strapped.
Final Thought
These are the opportunities and decisions that differentiate general managers that build perennial competitors and those who are constantly looking at not making the playoffs. When a team has a clear cut successor and an opportunity to create cap room and draft capital they have to take advantage.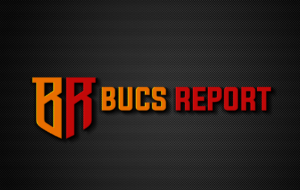 For more on this and everything Buccaneers check back here hourly at BucsReport.com