Can't believe I'm writing this seven weeks into the season. Great job Buccaneers.
Now, I want to make this very very clear. The Bucs season is far from over. Is there a lot of doom and gloom? Absolutely, and it is completely justified. It is never a good thing when you lose to an inferior opponent, which the Falcons arguably are (as far as roster goes, Arthur Smith is definitely a better coach despite his baffling decisions). That being said, we all thought this would be an evaluation year to see where this team is at. Right now, I am evaluating this team at a C-. The Bucs are missing several pieces and I think at this point it's safe to say they need to make changes to address them.
Before I get any further though, I will note that I am not going to talk about the RB room. It definitely meets this criteria I have set up, but I have already talked so much about it that I feel as if I would be repeating myself. So, here are my articles on our RBs.
Starting with the defensive side, the whole secondary needs to be reworked completely. Right now, our entire secondary is Antoine Winfield. Maybe Christian Izien as well. Jury is still out on Zyon McCollum, but he has taken a lot of strides. Jamel Dean and Carlton Davis are injury prone and have not been playing well this season and Ryan Neal deserves prison time with Chris Conte. Why exactly did we let Jordan Whitehead go? So, let me do the math. Oh yeah, it is literally all of our starters basically. So, to break this down more clearly, we need at least one corner, preferably 2, and a safety that can do more than tackle.
Next up, I think the Buccaneers could use another LB. Devin White has not done very well this season. He has a lot of tackles, but that's about all. No sacks, no forced fumbles, no fumble recoveries, and just one interception. He wants $20 million, I'm fine with him seeking it elsewhere. I really like SirVocea Dennis, but I don't know if he would be ready for full-time reps by next season. On top of that, I don't know how much longer Lavonte David will play for. So even if Dennis is ready, we might be missing both our starting LBs by next season.
And they basically need to replace the interior o-line. I don't want to give up on Cody Mauch since he is a rookie and has shown promise, but Robert Hainsey has regressed mightily and Matt Feiler is a vet and trash. I really don't get why the Bucs didn't draft a center to learn behind Ryan Jensen. But that might legit be our first round pick, assuming the Bucs don't take a QB, which I will talk about in another article.
Thank god I am not so far gone on the Buccaneers that I am closely examining draft prospects. We are not there, yet. But I will say this, this team desperately needs these pieces. Some can be solved by FA signings or trades, but some like the o-line or a new QB (potentially) cannot. I will say this, I will be watching Michael Penix tape if we lose to the lowly Panthers.
Make sure you check out Devin's blog at cannoncrunch.wordpress.com.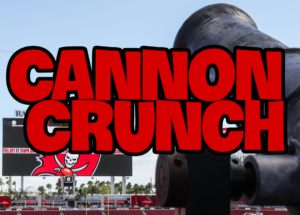 For more on this and everything Buccaneers check back here hourly at BucsReport.com