Yep, I'm doing this now Buccaneers' fans.
Todd Bowles blows. That is perhaps the least spicy take coming out from this fanbase, but that is what I am here for. Many people smarter and more knowledgeable about the Buccaneers and football in general have looked at the Texans game as Bowles' obituary.
The Glazers have a history of giving every head coach two seasons, even if they know the coach will be fired at the end. Unless Bowles turns the whole pirate ship around and wins every single game this season, I don't think he remains in 2024. And depending on who is hired, Dave Canales may join him. At this point, he is just making mistakes that a head coach should not make. Calling a timeout to aid the other team can only be done so many times. Worst of all, he is a defensive minded coach, and the defense is awful right now.
—
Enter Ben Johnson. The trend around the league is hiring young, talented offensive minds. If that's who you want, then Johnson is your man. Not only does he share a last name with one of the most beloved players in franchise history, he has been part of one of the best franchise revivals the world has seen. The Lions used to be a joke, and now they are one of the most lethal teams in the league. His offense has the 8th most points in the league at 25 a game.
Not only that, but he managed to turn around a guy who many saw as a stopgap for better things. Jared Goff has become a threat again instead of the guy who led his team to 3 points in a SB. Ben Johnson was hired as the OC in 2022. That year, Goff threw for 29 tds compared to 19 the year before and over a 1000 more yards.
Why am I bringing this up?
Well, as many people will tell you (especially Josh Quiepo), Baker has not been the issue this year. He has not exactly played like a number one overall pick, but for a guy getting $4 million, he has been pretty good. That being said, he could be better. And I think Johnson can get a lot more out of Baker. If they were to hire Johnson, I would actually prefer not using a first rounder on a QB (although that would change if they can draft Caleb Williams/Drake Maye). We could use that pick on a guy like Keion Coleman or to reinforce the defense.
It is always hard to figure out who would make a good HC. Otherwise, there would be a lot more good ones. However, I think Johnson would be a safe bet. The thing that makes me the most confident is the fact that he has managed to help successfully rebuild the Lions. He took a guy that was ok and made him into the face of the franchise. If he decides to leave the Lions in 2024, the Bucs would be lucky to get him.
Make sure you check out Devin's blog at cannoncrunch.wordpress.com.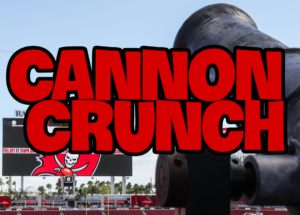 For more on this and everything Buccaneers check back here hourly at BucsReport.com