We're going to have to wait for injury to see more playing time for Buccaneers rookie Yaya Diaby aren't we?
Though it may feel strange to praise a player on defense after it allowed Brock Purdy Montana to have a perfect passer rating, the first for the 49ers since the end of the first Bush administration I might add, but that is exactly what I am going to do. Yaya Diaby on top of having a really fun name to say deserves to be on the field more and definitely deserves more snap counts than JTS.
Over the past three games, he has recorded 4 sacks. One against the Bills, one against the Titans, and 2 against the 49ers. Now, the Titans one you can argue that their line is very weak, so it is not that impressive. However, when you get a sack against that 49ers line, that is an achievement worth praising. One of his sacks was him running unblocked, but another was a beautiful swim move that pushed the linemen's arms out of the way so he could get Purdy.
Compared to the man that outsnapped him on Sunday in Joe Tryon-Shoyinka. What kind of great, amazing, spectacular stats did he record if the guy below him did so much with less? Nothing. He did not record a sack, a TFL, a tackle, or even a QB hit. He didn't do a single thing that showed up on the stat sheet. This is the man Todd Bowles has deemed is better than Diaby. A guy who in every sense of the word, contributed absolutely nothing. Even Devin White wasn't this passive in the game and he had front row seats to the McCaffrey td. And it is not just this game. He has not had a single sack since week 6. Why he still gets as much playing time he does baffles the mind.
We have seen this time and time again from this coaching staff. The players that are playing better are playing less than their inferior counterparts. It happened with Matt Feiler and Aaron Stinnie. It happened last year with Leonard Fournette and Rachaad White. I am not an NFL coach and cannot claim I know how to build a roster, but sometimes it is simple. If the player is playing better, they should play more. Not only that, but as a rookie, Diaby will likely get better with more reps. I don't think JTS should be benched, but his snap count absolutely should be reduced. And it is this more than anything that will have Bowles canned. He refuses to play the best players out of what appears to be stubbornness.
Make sure you check out Devin's blog at cannoncrunch.wordpress.com.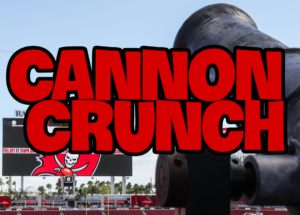 For more on this and everything Buccaneers check back here hourly at BucsReport.com