Per the NFL Network's Tom Pelissero, the Buccaneers officially approved Vita Vea's fifth-year option on Monday. The team confirmed Pelissero's report shortly after he broke the news.
We've picked up the fifth-year option on DL Vita Vea's initial contract, which extends the deal through the 2022 season.#GoBucs

— Tampa Bay Buccaneers (@Buccaneers) April 26, 2021
Jason Licht alluded to this happening earlier this month, so the news shouldn't come as a surprise for those who follow the team. There shouldn't be a world where the Buccaneers don't pick up the option on Vea.
"He plays a very pivotal role in our defense," Licht told reporters at the time. "When he's in there, a lot of things happen for not just him, but for everyone else around him. The day that we found out he was going to come back back and play, it was a very big day for all us, very exciting day. Coaches, scouts, players, owners, everybody. We were all very excited."
Based off the new CBA, the fifth-year option is split into tiers based on a variety of criteria. Vea qualifies for the lowest tier. Therefore, he will make a modest $7.6 million in 2022.
When healthy, Vea is one of the most dominant nose tackles in the game and he made an immediate impact upon his return during the playoffs. He is a force in the running game and his presence commands double teams. Athletically gifted, Vea shows up in the passing game, as well, evidenced by his 7.5 sacks over three years.
An injury limited Vea to only five games in 2020. He was ranked fifth in pass defense and fourth in run defense, per Sports Info Solutions. The year prior -where he started all 16 games- saw him finish 14th and 10th in those categories.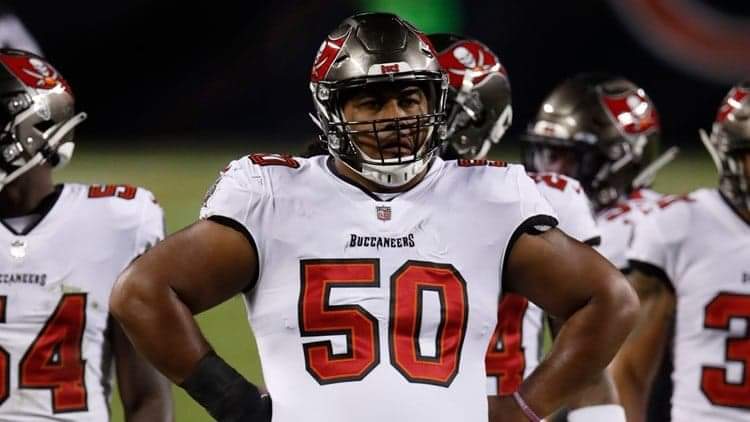 Vea has shown limitless potential over the last three seasons. If he can put together a strong 2021 campaign, a modest deal in 2022 will look like a steal.