Pro Football Focus put out an interesting tweet yesterday in which they call for fans to identify the best wide receiver duo in the NFL. Mike Evans of course made the list, but his partner was an interesting one – Antonio Brown.
Embarrassment Of Riches
If we're being honest, there isn't a better overall wide receiver room in the entire NFL than the Buccaneers' group, so having multiple options in Brown and Chris Godwin is a great problem to have. Arguing over which of your two wide receivers should pair with Mike Evans as the clear-cut best duo in the NFL is just further proof of the complete embarrassment of riches the Bucs have assembled at the wide receiver position. But, to me, the answer is clear – Godwin.
To be fair, Pro Football Focus doubled back and put Godwin with Evans. They even included the facepalm, mia culpa emoji.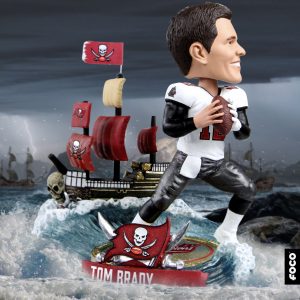 The Case For Brown
However, that didn't stop the debate from raging among some fans over which of the two deserved the "1b" recognition alongside "1a" Evans. I won't re-post said comments (you can check them out for yourself if you feel so motivated). Some argued that Brown is the superior route runner and thus the superior wide out. I can't ever argue against Brown being one of the best route runners of this generation. He is undoubtedly that. He can still take over a game in any respect. Deep ball, shake a defender at the line. You name it, he does it.
The Case For Godwin 
But Godwin is a legitimate #1 wideout. The Bucs' slot receiver often separates himself as the best WR in any given game. His 86 rec/1333 yds/9 TD line in 2019 (14 games) outpaced Evans, and despite missing 4 games last season, he reached 840 receiving yards and increased his catch percentage to a career best 77.4%, which is far and away the best percentage of any of the three Bucs receivers except for Brown's small sample size in his rookie season.
Don't get me wrong. I think Evans and Brown would STILL form the best WR duo in the NFL. Brown is still that good. I just think that Evans and Godwin are the more deserving duo to be recognized based upon what they have accomplished together over the last four seasons. I'd even go as far as to say Evans/Godwin/Brown would be 1a, 1b(1), and 1b(2). They're all deserving.
Again, it's a tremendous problem for the defending champion Buccaneers to have.