There was just another flag thrown.
The Buccaneers played in a preseason game Friday night, and somebody forgot to tell them. I am not stressing too much as they are meaningless games, but it is hard not to worry about some of the things on display. There were some good things, but there were also a lot of bad. I guess we start with the good.
The receivers were actually really good. You wouldn't think so looking at the stats, but all of them caught a majority of their targets. The star of the show was probably Trey Palmer, who had an amazing TD in the back of the end zone. It was also perfectly placed by Mayfield, who I'll talk about soon. The body control that he displayed though is hard not to be impressed by. He also caught all four of his targets for 33 yards. David Moore also looked really good and led the team with receiving yards (66 on three catches).
I would also say Mayfield looked really solid on the second drive. He showed a lot of poise and leadership in the pocket. Nothing much more to say really. He didn't play all that much. He went 8-9, 63 yards, and a touchdown.
The elephant in the room is obviously Luke Goedeke and Zyon McCollum, although I think an elephant would've done a better job of protecting Trask. We were promised breakout years for them this year. If this is the best we can do, then I would be very nervous, especially if Jamel dean and Carlton Davis go down (which they probably will). Goedeke was at least kind enough to pick Trask's ass off the grass considering he was the one responsible for him being there. McCollum had one good play and then he did nothing.
Going back to Trask though, he really did not have a good night. It seems like all the goodwill he earned during camp has basically vanished. He did air it out successfully a few times, but he was very sloppy and did not show a lot of poise in the pocket. Bowles made it very clear that both QBs played with the same o-line. Mayfield was sacked 0 times, Trask was sacked 3. I don't think that bodes well. He went 6-10 for 99 yards, 0 tds, and 1 int.
But the real star of the Buccaneers' shit show were the referees. Dave Canales I thought did a fine job with play calling. Although if he ends up calling three straight runs up the gut in a real game, I'm calling for everyone's head. However, it did not seem like any of the back-ups knew what he wanted. It was a real extravaganza as far as the type of penalties. We saw facemask, illegal formation, pass interference, holding, false start of course, and so many more. the prize that we earned at the end of the game was 12 penalties for 127 yards. Pardon my French, but what the actual fuck is this bullshit?
That's more yards than any individual QB had thrown. Not only that, it seemed every single penalty negated a good play. 38 yard gain, 15 yard face mask. Really impressive Sean Tucker run where he breaks tackles on his way to the end zone, holding and we have to kick a field goal. Just back-breaking stuff.
If this game is indicative of the Buccaneers season, then yeah, we're in trouble. However, I don't think that will be the case and I think the team will look better on offense at least. Defense actually played pretty solid minus a few big plays. I guarantee though we will not have 127 penalty yards.
This article was used with permission from cannoncrunch.wordpress.com.and was written by Devin Sanguinett.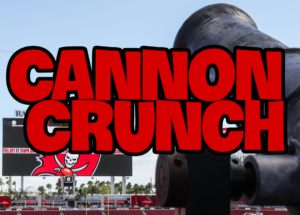 For more on this and everything Buccaneers check back here hourly at BucsReport.com