This Sunday the Tampa Bay Buccaneers travel to Minnesota to play the Vikings in their season opener. This is a matchup between two playoff teams from last season and has all the making of a good matchup. However, the Bucs are six point underdogs in this game.
Most believe that the Vikings are the superior team entering the year. The Buccaneers will have a lot to prove against a team that should make for a good measuring stick for them. Here's how the Bucs can prove their metal and sail out of the Land of 10,000 Lakes with a victory.
Limit The Passing Game
The Vikings hang their hat on their explosive offense. You can do that when you have the best wide receiver in the NFL in Justin Jefferson. He is the biggest thing that Todd Bowles and company will have to plan for.
We know the Bucs don't shadow receivers, so both Carlton Davis and Jamel Dean should see time against him. I would also expect a healthy dose of over the top help from Antione Winfield Jr. Jefferson is the type of talent that demands this kind of attention.
Quarterback Kirk Cousins is good enough to get the ball where it needs to go. He has established himself as an upper third tier quarterback and is a very well rounded player. Considering this game isn't on primetime, he should come out hot and pick the Bucs apart if they can't pressure him.
Outside of these big two, the duo of tight end TJ Hickenson and first round rookie Jordan Addison make for a great supporting cast. Both are expected to be reliable, if not very good, pass catchers. Make no mistake, this is not a one man show in the passing game.
Don't Let Hunter Beat You
The Vikings defense is largely void of talent. They were one of the worst teams in the NFL on this side of the ball last year and did very little to add to this group. The one big name they do have is pass rusher Danielle Hunter.
Hunter has size, speed and flexibility. He is a well rounded edge rusher who has put up three double digit sack seasons in the last four years. He is the one player I see on this defense who can consistently win one on one matchups. 
So, naturally, the Bucs shouldn't give him many one on one matchups. While someone like Tristian Wirfs might be able to handle a player of Hunter's caliber, there isn't any need to put him on an island. Having running backs and tight ends consistently chipping Hunter will do a world of good for both Wirfs and Luke Goedeke, who is moving to right tackle after playing guard for most of his rookie year.
Air It Out, Then Punch It In
Only one team in the NFL gave up more passing yards last year than the Vikings. While putting the ball in Baker Mayfield's hands might not seem like an ideal situation to some, it makes the most sense to attack Minnesota in this way. Especially in this new offensive system that sets up for a lot of easy completions.
This is good because it puts the ball in the hands of the Bucs stars on offense. Mike Evans and Chris Godwin are one of the best receiving duos in the NFL. The Vikings have no one who can match up with either of them one on one and it is unlikely they will double both consistently. One, if not both, should have big days.
In addition to their pass defense woes, the Vikings were one of the ten worst teams in the NFL at preventing rushing touchdowns last year. With the pure size and athletic ability of this Buccaneers offensive line, it will be a great opportunity to establish a running threat early in the year.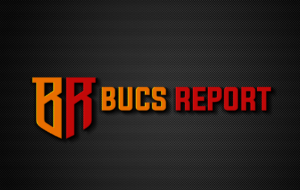 For more on this and everything Buccaneers check back here hourly at BucsReport.com