As the NFL and NCAA make a concerted effort to expand into the United Kingdom and beyond, American style of football has already found a foothold into the regions lexicon. In this article by Stevie (Coach Slick) Probert we get a grass-roots look at what it take to be apart of "Britball" and what it takes to help grow this sport from the ground up.
—
There's three ticks left on the clock, it's 2nd down and the refs have just flagged the play. It should be on them for an illegal forward pass but you never know. The penalty is confirmed as an illegal forward pass and pushes them back.
The play before was an eight yard run, so they are on the 42 and we're leading 20 to 12. They need a TD, so the call is a deep 4 verts play, I hand signal in "Over Jet cover 4". I'm screaming for the DBs to start 10 yards off.
They do the as the air fills with chants of KNIGHTS, KNIGHTS, KNIGHTS!
As the play starts the sideline and myself burst with an almighty shout of PASS! The ball is cocked back but #45 Ted Parkin our LB/ DE levels the quarterback, SACK!
The referee confirms "that is the end of the game" the sideline is going bananas right now my self included. The Worcestershire Black Knights have done it there first win since 2018. In 27 games we did it, we beat Swindon Storm 20 to 12. This is American football in the United Kingdom, this is Britball.
—
I didn't realise at this point I'd be coaching a new team the following season. This is a team that I'd been with since 2014 and have coached since 2020, this is the story of life in Britball (American football in the UK).
I get a message from Sam Astley, he's the head coach at the Sandwell Steelers. He tells me he's heard good things about me and he'll be at our home game finale versus our rivals the Hereford Stampede,. Fast forward a month and the club is on the brink of collapse so I decided to take the interview with coach Astley. We talk about building a culture, feeding it into the team, winning games and building it to be great (Sandwell have been relegated to Division 1 from the Premiership).
The Black Knights were in division 2, after a good chat he's sold me, I'm going to Sandwell! I will be taking a demotion from DC to DB coach but it's a step up in competition and talent, my wife Fi (Fiona) is happy due to the fact that I am unlikely to end up playing for Sandwell. You know what they say, happy wife happy life, I've only ever known being a Black Knight as my home so a move to Sandwell was a big big leap for me.
—
Though only 45 minutes by car it felt a little further from home. Coach Sam and I talk over the coming months of August and September he's interviewing a new DC and the new OC. Idid however feel a little anxiety, a little bit of imposters syndrome if you will with all the questions going through my mind. What if they think I'm a fraud what if I'm not good enough to coach them at this level? My wife affirms to give it my best shot and believe in myself.
The DC has been appointed, Ben Melbon, then has coached as an OC and as a DC in Division 2 with the Crew Railroaders and Keel University.
Melbon, an avid Raiders fan and fan of The black stuff (Guinness). He's a fellow fan of the pirate life rum and of course the dark stuff, coffee. A wicked sensor to match a vaping scowling tough guy. We hit it off straight away, he's looking to run a defense that I always wanted to run with Knights but didn't due to lack of player commitment.
You see, football players here in the UK are completely amateur. None of us get paid we just love the game. Myself, I'm a Bucs fan and I also co-host a live internet show on Bucs Report called "The Aftermath" with my bro host A.J Turn-Up. On the show we colorfully discuss Buccaneer' football in a very enthusiastic fashion. There are lots of NFL and college fans in the UK and there tends to be a lot of banter with each other within our Britball teams. Sam Ashley is a Saints fan, yuck! Ben is a Raiders fan but don't talk to him about the Super Bowl, sore subject.
—
Sam has four sessions before preseason in January, two in October and two in November. These allow newcomers to try out the game and see if it's for them. It's a good opportunity for returning players to try out new positions as well. For me it's the first time I'm meeting my new team. I get to practice and there's some familiar faces.
Alex and Quick H were all part of the Worcestershire Black Knights last year so I won't be completely alone. It's 9:00 a.m. and coach Astley blasts on his whistle and shouts "it's work time now boys no walking let's get moving" as they hit the warm-ups. While this is going on I introduced myself to the rest of the coaching staff and learn a little bit more about who they are we have.
James Moyhan a former defensive line player for the Steelers and a big Star Wars fan, loves his comic books and rock and roll. He's our wide receiver's coach this is his first season coaching.
Melbon would be working with d-line. He's a rookie coach with a huge passion for the game he's a Pittsburg Steelers fan. From here we have coach Indi. This guy coaches at multiple levels including women's, youth, college and senior ball. He's an Indianapolis Colt fan and our linebackers and specials coach.
—
Next we have coach David Butler. An air raid loving and brutally honest outspoken coach whos always sporting a visor. He's an extremely renowned offensive coordinator in Britball. Finally you have Sam Astley. This is his first time as a head coach and he's leaning on Dave as he picks up his new role. He's played for the Steelers since they began and helped them reach promotion as division two champions.
He also helped them win a Premiership promotion as a player. This guy bleeds black and yellow but his NFL team is those damn dirty Saints. This will make for a bit of banter over the course of the year.
—
So how do you become a coach in Britball? Well you have to pass the British American football Coaches Association (BAFCA) level 1 course. This course teaches safety principles of coaching with a practical and written test. You have to pass this to get licensed with the British American football Association (BAFA). The test costs 75 dollars a year. Yes we pay to coach over here.
Coach Sam calls out the position groupings. "DBs go with coach Probert", I've never been called that, has a nice ring to it as I've typically been called "Coach Slick" due to my slicked back hair. I introduce myself, where I'm from etc. Starting off we go through ASKA (alignment stance key read and assignment) so once we nail these we can start to add movement and footwork. We start simple with a deep release then we teach backing back down I'm firm believer that reading is a fundamental skill in football.
—
We give them a read, ball up signals pass and ball down signals run. The players call these out as soon as they see them. Now we're reading and reacting.
This is my first time meeting the team. My unit is James Bacon, who has played corner and outside linebacker for us with the Knights. Then you have starting free safety Stuart Edwards. He's been with the Steelers awhile and will become the teams leader in picks with a total of nine including preseason.
He also gained one fumble recovery given a total of 10 turnovers. He's also the women's team DC. Next to him you have Oheeul Choudhury at Bandit. A punishing tackler who will go on to lead the team in tackles and sacks. He has a history with the Steelers, he coaches the youth team and has played with the Renowned Tamworth Phoenix. These two I have to admit were pretty intimidating to coach considering their experience at this level and the fact that they're both coaches.
They are fantastic this session and leading by example in being coachable and pushing the other players helping me to reinforce my points and coaching. Stu would go on to help me on Wednesday practices as I work on Wednesday night's at my job. Both guys were instrumental to me this year.
—
Coach Sam blasts his whistle and the individual sessions are done. Now for defensive scheme install. We install a base two high cover three, we mark out white cones for players starting points. Then red cones for the landmarks players will drop to the red cones on pass and we'll go through their run fits based on the formation and coverage.
We start with calling run plays, then pass plays and then we mix them up. This enforces that the guys must read and can't guess or cheat because as we know, reading is fundamental. That's one of four of the OTAs in the books. For one of the OTAs, coach Melbon is unavailable. This means I get to show what I can do and show that I can step up if needed.
—
Come preseason we're powering through installs and the DBs are really getting it. Leading the charge at corner are Billy, who is a police officer and Jordan who is a primary school teacher. Both played last year and are looking to cement starting spots. Then we have a pure rookie in Ryan Cheema, Dan and Jamie as backup safeties both uniball players. With Dan from Loughborough and Jamie from Keele. We gain a new addition at safety with Phil Dying.
He was with me back at Worcester and taught me my first playbook. We played together since I began in football. He has a rep of being a nasty hitter but as age got to him he would still make the hit but he might have to go and check in with the trainer after. But he was always willing to get back out there and work his ass off.
—
First pre-season action is up and we're facing the Hereford Stampede in a half controlled scrimmage and practice session. Coach Melbon is away and I'm stepping up as acting DC, so I want to be on point I coached against this team as the DC of the Knights. I know them well and I've only ever managed to draw with them so I want to prove a point.
Their QB is a good division 2 signal caller. They're biggest weapon is JJ Spencer. Their offense is built on get this guy the ball every which way they can. He's a slot receiver so the run sweeps lead blocks he'll play as a nasty slot (tight split from the LOS).
I go through my game plan to stop JJ. These are done in the form of a recorded video This way the players can watch at their leisure. It's a joint practice with a half of controlled scrimmage. The vibe of the players is we're gonna kick the shit out of these guys. Practice goes ok and now for a half a football the defense is up.
—
I hand signal the call and I noticed that we are not jamming JJ. He gets a clean release over the linebackers and makes the catch for a big gain, and they keep doing it touchdown stampede. We are really struggling when the twos are out there. We are missing our starting nose tackle and our three tech and it shows. Overall Hereford was slightly better than us. We didn't give them the respect and effort needed and it showed.
From the coaches meeting, I end up with high praise for stepping up and showing what I can do. This really validates me in my own eyes and in the eyes of my peers. The defensive perspective is we got better as time went on and we need to start faster. Some of the players didn't know the plays. This was pointed out due to one of them being upset with me for not blitzing him so much. My response was stop them on first down and you'll get your blitz!
I called the blitz for him, he didn't blitz. When the series was done I asked him what happened he said that play wasn't a blitz and few of the linebackers also agreed. Confused I pull out the playbook to reaffirm myself. I'm right, it was a blitz play. So we have players that don't know the playbook yet. This is worrisome.
—
Next up it's a full game scrimmage but this one is a two hour trip. Now some teams in Britball pay for coaches but it costs a heck of a lot of money. It can cost over $3,000, something that most teams can't really afford so they avoid it. We decide to carpool. For me this requires stopping in Kidderminster to pick up "Eyes" (James Brennan(. He will join us as a player in the last two game to the season. Small problem, we don't have a referee for this game. As level one coach, you are qualified to referee so he'll be the ref for this game. Brennan coaches the Worcester Royals, my cities uni team.
College runs from November till February, senior football is April till August so Brennan helps us out and if he needs a ref I help him out. From picking up Brennan I'm off to Stoke to pick up coach Melbon. Then we're off to Halton we get there and Gates are locked. We have to wait 20 minutes, ugh, Britball problems.
We go through warm-ups and we're ready to go. Evidently Halton needs to change their uniforms as they clash with ours. Unfortunately for them they're uniforms are locked up in a completely different location, more Britball problems.
—
Finally the game is underway and they get the ball first. My rookie corner Ryan has just given up a 20-yard play with busted coverage the safety makes the tackle. The defense digs in and they hand over possession. There's nothing fancy about this, just offense versus defense. Their quarterback is redshirted unless he leaves the pocket our quarterback isn't he's live. Ryan comes off the field and I say "Ryan do you know what went wrong" he says yes coach I was caught overthrowing it and it slowed me down. You can see it on his face, were turning in this guy's head, he says "coach it won't happen again" and it didn't.
He played very well afterward. His best game at the season. The offense kept the score board ticking and the defense shut it down. One thing we did struggle with, their quarterback was mobile and gained yards off scrambles and busted plays.
—
With one half of football done, they pretty much ran four verts and he would just roll out and run as far as we could. Did this teach their offense anything? No, knowing that they're quarterback couldn't get hit until he left the pocket gave them an advantage and they lived and died off this. It was frustrating for our defense as they were unsure whether they could tackle him or not. Again, Britball.
We figured it out and won the game. First win in years but this is preseason so it doesn't count. But it did feel good, and for some of the long standing guys it really meant something.
The game was the DBs game for sure. They were locking up and making plays all day. Stu Edwards' picks had the team celebrating the turnovers with our turnover belt. I get into the celebrations, I'm loud and a ball of energy bouncing up and down the sidelines. I gotta get them boys right before we can get hyped.
—
The reflection of the preseason is we are a few weeks from opening day. We have to be ready. For us that meant 10 games in 13 weeks. It was brutal a schedule as most teams played 2 to 3 games by the time we met them. It was going to be a fight, but we had worked hard for this and still had guys that didn't know the playbook. I did video sessions covering it later in practice and we found the DBs struggled with the deep ball. So we adjusted our drills to compensate and planned on fixing this as the season was now ahead. This is American football in the UK, this is Britball.
If you like to know more about the British American Football League click the logo below!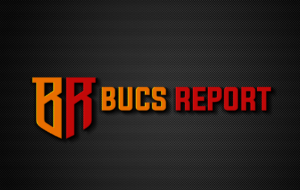 For more on this and everything Buccaneers check back here hourly at BucsReport.com