I will take every FA RB for the Buccaneers please.
I will say that I was actually surprised by this news. Michael Carter, the guy who kept the seat warm for Breece Hall and did not do anything else of value, was waived.
I guess they invested in some heated benches or maybe a blanket, who knows. At any rate, the Jets waived him and naturally every Bucs fan wanted him picked up. Why, I don't know considering the benches are usually pretty hot in Florida. But I'm not surprised. Fans have been clamoring for some other back-up RB to Rachaad White since our guys… are not it to put it kindly. What surprised me is the fact that the Buccaneers put a claim in for him, according to Field Yates.
—
Now, despite all my jokes, I think Michael Carter could have provided some value for the Bucs. This year all he has been doing is upsetting Hall owners by taking away time, but he has proven to be effective as a change of pace back. He has a career average of 4 yards per carry with his best year actually being this one at 4.8 ypc. He has also contributed in the air, albeit not much. However, they are all the numbers that are expected of a guy who is not a starter.
Compare that to the back-ups, Chase Edmonds and KeShawn Vaughn have a combined average of 1.95 ypc. Pardon me while I throw up. That is a horrific number. Jalen Hurts averages more yards off the tush push. Hell, Tommy Devito could average more yards with the QB sneak behind the Giants o-line. They also have a combined 21 yards through the air. Just not what you want to see from any player.
The Buccaneers are not run by stupid people. They can see these stats, same as the rest of us. Fans have been clamoring for some kind of help, and for once the Bucs seemed like they were going to call in for reinforcements. If not for the lowly Cardinals, they would've received them. While the run game has shown some improvement, the Bucs have a long way to go still. Carter could not possibly be worse.
Make sure you check out Devin's blog at cannoncrunch.wordpress.com.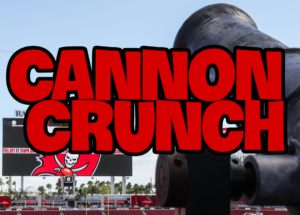 For more on this and everything Buccaneers check back here hourly at BucsReport.com