San Francisco 49ers players and career days against the Buccaneers is like PB&J.
Todd Bowles is supposed to be some sort of defensive mastermind, and yet Deebo Samuel was so wide open. If he was just defensive coordinator, he would've been thrown out of the door by now.
Don't let Jamel Dean and Carlton Davis going out with injury fool you. The defense actually played better with them off the field. granted, it was when the 49ers were up by 13, but my point stands. They were awful all day. Jamel Dean apparently thinks he is over 10 feet tall with how he tries to jump up for interceptions. Seriously, he needs to watch the Mile High Miracle on repeat until he learns what that leads to. But speaking of injuries, the Bucs may run out of hospital beds for their players. Dean, Davis, Lavonte David, and Tristan Wirfs all exited with injuries. I will definitely miss two of those players.
—
Don't let the stats fool you. Baker Mayfield did not have that great a game. He did make a few plays, but should've been picked off like 50 times. And once again, the Bucs cannot convert in the red zone. Twice inside the ten, and no points. Huge punt return to set up a drive? Intercepted. Playcalling was still decent in the second half, but the execution was noticeably worst. Godwin should definitely have been targeted more throughout the game as he had a lot of clutch catches.
Not many people thought the Bucs could win, but I was optimistic after the first half. Good news is that the rest of the schedule is pretty easy. Almost all the teams are at or below .500 with the exception of the Jaguars. That can change of course, but the easy schedule may be enough to give the Bucs momentum and kickstart a playoff berth. They would probably waste it or fumble it, but hey, anything can happen.
Make sure you check out Devin's blog at cannoncrunch.wordpress.com.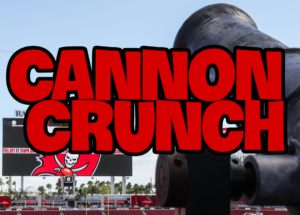 For more on this and everything Buccaneers check back here hourly at BucsReport.com