After an up and down pre-season opener, the Tampa Bay Buccaneers are looking to bounce back. This week they will take on the New York Jets, both in practice and on game day. This will be a good measuring stick game for the Bucs.
One unit that we are still desperately trying to evaluate is the offensive line. With so many questions still to be answered, we should start to gain some clarity against a very good Jets defensive line. 
But what are realistic expectations? Does this rag tag group of position changing big men have what it takes to hold up? I did a confidence rating for each position along the offensive line.
Left Tackle – 9/10
All Pro right tackle Tristan Wirfs is making the switch to the left side. While I have no doubt that Wirfs has the talent to play left tackle, I am hesitant to make a big change to one of the best players in the NFL. There's an old saying about trying to fix things that aren't broken and it makes me just a little nervous in this situation.
With that said, Wirfs does have some experience at left tackle. He played there for several games in college while the regular starting left tackle was out with injury. In that time he looked every bit as dominant as he did on the right side.
Based on what limited experience we've seen from him and his immense talent, I feel extremely confident this transition will go smoothly. I wish we could've seen him in last week's preseason game to really affirm that belief. However, if he shows out against a group of very good Jets edge defenders then that will tell us a lot.
Left Guard – 7/10
The addition of Matt Feiler was a good pick up in the offseason. He has experience at both tackle and guard and has made 73 starts over his six year career. This is a veteran presence on a very young offensive line unit. 
It's also worth noting that the teams Feiler played with were both successful. Both the Pittsburgh Steelers and Los Angeles Chargers went to the playoffs during his time there. So his versatility and skill have proved effective enough to take the Bucs where they want to go. 
Now I'm not here to tell you that Feiler is a world beater. He won't be an All Pro or even a Pro Bowler this upcoming season. However, he won't be a weak link either. Expect a rock solid starter who can help bring the young guys along.
Center – 3/10
We all know how good Ryan Jensen is. When healthy he is one of the best centers in the NFL. If he is on the field this season then this jumps up to a 10.
However, that is a yacht sized caveat. After missing all of last season, except the playoff game, Jensen elected not to have surgery this offseason. Many doctors were consulted in this process and this was the decision that was made.
Now here we are approaching the second preseason game and his status is still up in the air. Jensen has been held out of 11 Vs 11 practices and did not play in the first preseason game. It's beginning to seem unlikely that he will be ready for the strain of the NFL anytime soon.
Robert Hainsey, who started in Jensen's place last year, will once again be relied upon by the Buccaneers. While the Buccaneers did invest a third round pick into him in 2021 with the intention of him eventually replacing Jensen, I am skeptical that Hainsey is a starting caliber center.
Right Guard – 5/10
I am of the belief that Cody Mauch will be a good NFL player. He has great athletic ability as well as an in your face playing style that I find appealing. In two or three years, I think he will be an above average starter.
Two or three years from now, that will be great. But what about this season? Can Mauch really come in from North Dakota State University while changing positions from left tackle to right guard and produce at a high level as a rookie?
It sounds unlikely when written out like that. In reality, Mauch will have his fair share of growing pains this season. We saw him get out muscled against the Steelers on more than one occasion and a guarantee that it won't be the last time this season.
Right Tackle – 6.5/10
I'm someone who has always believed that Luke Goedeke is better suited to play guard in the NFL. So when the team decided to move him back to right tackle I was critical of the move. I felt very strongly about this until this past Friday when the Buccaneers played their first preseason game.
Goedeke looked very good overall in the game. He was a mauling run blocker who worked well in space. He also shut down pass rusher Marcus Golden, who has had double digit sack seasons three times in his career.
It wasn't a perfect start as he did give up a sack and a tackle for loss in the second half. However, I am feeling much more optimistic about this experiment than I was a week ago. There are still technical issues to polish up here and I'm still not confident that this was the right move, but  Goedeke looks good so far.
We are honored by the nominations for @cl_tampabay Best of the Bay in three categories!
Best Columnist: Carter Brantleyhttps://t.co/MZdcJVnAE0
Best Sportswriter: JT Olsonhttps://t.co/alIdm4fJJq
Best Personality to Follow on Twitter: @BucsReportNFLhttps://t.co/c0Wa1bIh5c pic.twitter.com/IX2sWr1KcH

— Bucs Report (@BucsReportNFL) August 11, 2023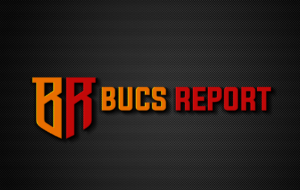 For more on this and everything Buccaneers check back here hourly at BucsReport.com