I have hope again Buccaneers fans!
I am happy to report that the surgery on all of defensemen's hands went very well. The stones that were on their hands worked exactly to perfection. They worked so well that Mike Evans requested some. Despite the snark here, I am actually very optimistic about this team again. There were definitely mistakes, but I do not feel the crushing defeat I felt last week. Who knows how long that'll last, so I will take it.
—
For the first time in a long while, the Bucs outcoached an opponent. I am actually amazed. Yes, Todd Bowles had his patented coward ball to end the half and there were a lot of bad 1st down runs, but Bowles actually came through when it mattered. He blitzed a lot more, which only got one sack, but managed to unnerve Will Levis into making mistakes. And wouldn't you believe it, they planned man coverage more and the defense looked better. Now, who could've seen that coming? And the run defense? 10/10, no notes.
The defense rebounded especially well. Jamel Dean had DeAndre Hopkins in clamps and the redzone defense is still God tier. The Titans had two drives within the 10, and had 2 fgs. Zyon McCollum still got burnt a few times, but wasn't awful. However, it was the rookies who stole the show. Marques Watts looked great in limited action and Calijah Kancey seemed to always be in the backfield.
The run game still wasn't great, but Rachaad White still worked very well as a receiver. Other than that, the offense was not anything spectacular and got off to a very slow start, but it got the job done. They still need to do a lot better in the redzone and improve the run game as previously stated, but the passing game was great. Getting the ball to your play makers does indeed result in plays being made.
—
This team does have a lot of work to do. The defensive identity needs to be figured out. The coaching staff also still needs to work on their game management. But, unlike last week, there seems to be light at the end of the tunnel. These are all things that can be rectified and the Buccaneers still have a very good chance at the playoffs.
Make sure you check out Devin's blog at cannoncrunch.wordpress.com.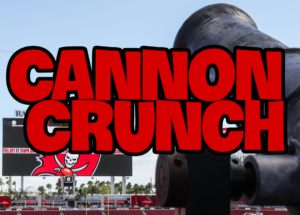 For more on this and everything Buccaneers check back here hourly at BucsReport.com